« Senator Reed introduces IMLS reauthorization bill | Main | Prepare Your Library for Winter Weather »
By Donna DiMichele | January 2, 2018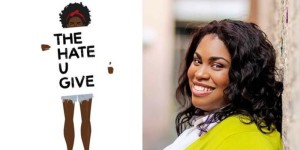 Reading Across Rhode Island (RARI), Rhode Island's One Book, One State community read program kicks off its 16th year on January 27th. The 2018 RARI selection is The Hate U Give by Angie Thomas.
The Office of Library and Information is a proud to sponsor Reading Across Rhode Island.
Speakers and Performers will offer engaging introductions to the book's themes:
Honorary Chair Jordan Seaberry, Director of Public Policy and Advocacy, Institute for the Study and Practice of Nonviolence
Shawn A. Christian, PhD., Associate Provost, Associate Professor of English, African American, and American Studies, Wheaton College
Harriet Harriel, EdD., CivicSalon
Living Literature
AS220 Youth
This is a ticketed event $15.00 Register and purchase tickets.  https://www.eventbrite.com/e/2018-reading-across-rhode-island-kick-off-tickets-41285686600
The Hate U Give is a brave, thought-provoking, conversation-enabling novel about what prejudice looks like in the 21st century. Sixteen-year-old Starr lives in two worlds: the poor neighborhood where she was born and raised and her private high school in the suburbs. The uneasy balance between them is shattered when Starr is the only witness to the fatal shooting of her unarmed best friend.
Author Angie Thomas was born, raised, and still resides in Jackson, Mississippi. She is a former teen rapper whose greatest accomplishment was having an article about her in Right On! Magazine. She holds a BFA in creative writing and can still rap if needed. The Hate U Give is her first novel.
Questions? Contact Kate Lentz at kate@ribook.org. Further reading lists, book discussion guides, the author's website, audio interviews and other supplementary materials may be found on the Center for the Book website.
Topics: Events, Literacy | Comments Off on RARI Kick-Off January 27
Comments are closed.