By Donna DiMichele | January 16, 2018
The Rhode Island Foundation, Initiative for Nonprofit Excellence (INE) is offering a full slate of programs in the coming months for nonprofit staff, volunteers, and board members. Programs range from grant writing to board service and from fund development to board peer learning meetings. Programs include:
Introduction to Grant Writing,
Succession planning,
Board recruitment/orientation,
Board engagement,
Board Chair/Executive Director relationship,
Running your board meeting,
Board role in strategic planning,
How to be a successful board fundraiser for your organization,
Introduction to board service,  and
Introduction to fund development.
The INE provides opportunities for nonprofits to strengthen organizational capacity through topic-focused workshops. INE workshops enable staff, board members, and volunteers representing Rhode Island nonprofit organizations to learn skills and techniques that will enable them to better achieve their mission.
A comprehensive list of the programs, and their intended audiences, is online.
Topics: Continuing Education, News & Information, Resources | No Comments »
By Donna DiMichele | January 5, 2018

Come Be a Part of a Powerful Evening to Rewrite the End to Rhode Island's Overdose Epidemic
Owning Our Story: About the Overdose Epidemic
The Rhode Island Department of Health (RIDOH) and Creating Outreach About Addiction Support Together (COAAST) will be hosting a FREE, community event called Owning Our Story: About the Opioid Overdose Epidemic on Monday, January 15 from 6 p.m. to 9 p.m. at the Veterans Memorial Auditorium in Providence . This special event will feature TED-style Talks, testimonials, and an adaptation of COAAST's "Four Legs to Stand On."
COAAST is a Rhode Island-based organization that is working to end the opioid overdose epidemic through arts-based educational performances and events. The organization specializes in drama therapy, which is the use of drama and theatre processes to achieve therapeutic goals. More information is available at coaast.org.
Speakers include:
Josiah Rich, MD, MPH | Opioid Use Disorder: Understanding the Stigma and the Disease
Army Combat Veteran Paul Kandarian | War and Addiction: The Battle on Two Fronts
Author Alyssa Sullivan | Transcending the Story: The Healing Path of Connection
Libraries are hubs of community engagement and sources of trusted information. Please share information about this event with your community.
View the Owning Our Story Facebook event at bit.ly/OOS-RI, or call 401-598-6061 for more information.
The event is open to the public.  Appropriate for ages 13+
Libraries are hubs of community engagement and sources of trusted information. Please share information about this event with your community.
Topics: News & Information | No Comments »
By Donna DiMichele | January 2, 2018
Prepare Your Library for Extreme Cold and Severe Winter Weather
Library facilities are subject to the same risks as homes during prolonged periods of extreme cold, especially if the library building will be closed for more than 24 hours. The Federal Emergency Management Agency (FEMA) gives specific recommendations to prepare yourself and your home. Many of these recommendations will apply to library facilities. Visit Ready.gov page on Snowstorms and Extreme Cold  for a comprehensive list of action steps.
The following are some highlights tailored for library facilities.
Review the Staff Communications Plan
When disaster strikes, it is important to know how you and your staff will contact one another and what you will do in case of an emergency.
Precautions for Your Facility
Learn how to shut off water valves (in case a pipe bursts). Review your disaster plan to see what steps you should take and make sure you have supplies on hand.
Use rock salt or more environmentally safe products to melt ice on walkways and prevent dangerous slip and fall incidents.
Make sure you have a cell phone with an emergency charging option (car, solar, hand crank, etc.) in case of a power failure. Staff should know cell phone numbers for supervisors and peers as relevant.
Monitor the National Weather Service (NWS) for forecasts; type in your zip code and get information specific to your city or town. You may also sign up in advance to receive notifications from your local emergency services. NOAA Weather Radio broadcasts alerts and warnings directly from the NWS for all hazards.  On Twitter @NWSBoston – includes RI news.
Follow the RI Emergency Management Agency on Twitter @RhodeIslandEMA  for current extreme weather news.
During Snowstorms and Extreme Cold
Keep dry. Change wet clothing frequently to prevent a loss of body heat. Wet clothing loses all of its insulating value and transmits heat rapidly.
If you must go outside, wear several layers of loose-fitting, lightweight, warm clothing rather than one layer of heavy clothing. The outer garments should be tightly woven and water repellent. Wear mittens, which are warmer than gloves. Wear a hat and cover your mouth with a scarf to reduce heat loss.
Cold Related Illness: Hypothermia, Frostbite
Frostbite is a serious condition that's caused by exposure to extremely cold temperatures. If you observe any of the following in staff or patrons, seek medical care for them. Elderly and homeless people are especially susceptible.
a white or grayish-yellow skin area
skin that feels unusually firm or waxy
numbness
If you detect symptoms of frostbite, seek medical care.
Hypothermia, or abnormally low body temperature, is a dangerous condition that can occur when a person is exposed to extremely cold temperatures.  Hypothermia is caused by prolonged exposures to very cold temperatures. When exposed to cold temperatures, your body begins to lose heat faster than it's produced. Lengthy exposures will eventually use up your body's stored energy, which leads to lower body temperature. Warnings signs of hypothermia include:
Adults: shivering, exhaustion, confusion, fumbling hands, memory loss, slurred speech drowsiness
Infants:  bright red, cold skin, very low energy
If you notice any of these signs, take the person's temperature. If it is below 95° F, the situation is an emergency—get medical attention immediately.
Carbon Monoxide
Caution: Each year, an average of 430 Americans die from unintentional carbon monoxide poisoning, and there are more than 20,000 visits to the emergency room with more than 4,000 hospitalizations. Carbon monoxide-related deaths are highest during colder months. These deaths are likely due to increased use of gas-powered furnaces and alternative heating, and power sources used inappropriately indoors during power outages. Read more about carbon monoxide poisoning on Medline Plus.
Topics: Preservation, Resources | Comments Off on Prepare Your Library for Winter Weather
By Donna DiMichele | January 2, 2018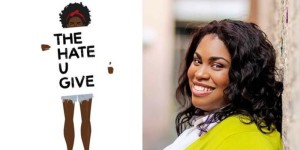 Reading Across Rhode Island (RARI), Rhode Island's One Book, One State community read program kicks off its 16th year on January 27th. The 2018 RARI selection is The Hate U Give by Angie Thomas.
The Office of Library and Information is a proud to sponsor Reading Across Rhode Island.
Speakers and Performers will offer engaging introductions to the book's themes:
Honorary Chair Jordan Seaberry, Director of Public Policy and Advocacy, Institute for the Study and Practice of Nonviolence
Shawn A. Christian, PhD., Associate Provost, Associate Professor of English, African American, and American Studies, Wheaton College
Harriet Harriel, EdD., CivicSalon
Living Literature
AS220 Youth
This is a ticketed event $15.00 Register and purchase tickets.  https://www.eventbrite.com/e/2018-reading-across-rhode-island-kick-off-tickets-41285686600
The Hate U Give is a brave, thought-provoking, conversation-enabling novel about what prejudice looks like in the 21st century. Sixteen-year-old Starr lives in two worlds: the poor neighborhood where she was born and raised and her private high school in the suburbs. The uneasy balance between them is shattered when Starr is the only witness to the fatal shooting of her unarmed best friend.
Author Angie Thomas was born, raised, and still resides in Jackson, Mississippi. She is a former teen rapper whose greatest accomplishment was having an article about her in Right On! Magazine. She holds a BFA in creative writing and can still rap if needed. The Hate U Give is her first novel.
Questions? Contact Kate Lentz at kate@ribook.org. Further reading lists, book discussion guides, the author's website, audio interviews and other supplementary materials may be found on the Center for the Book website.
Topics: Events, Literacy | Comments Off on RARI Kick-Off January 27
By admin | December 22, 2017
On December 21, Rhode Island's own Senator Jack Reed and a bipartisan group of senators introduced the bill to reauthorize the Museum and Library Services Act.  The bill renews and builds on the $231 million committed to museum and library programs administered by the federal Institute of Museum and Library Services (IMLS). Support for libraries is a long standing tradition for Rhode Island senators: in 1996, Senator Claiborne Pell was instrumental in crafting the first Museum and Library Services Act.
In 2017, the Rhode Island Office of Library and Information Services (OLIS) received $1,070,238 from IMLS under the Library and Services and Technology Act Grants to States Program.  In the past 10 years, OLIS has received over $10 million dollars in federal funding to support library services and programs in Rhode Island.
Thank you Senator Reed, and your colleagues in Maine (Senator Susan Collins), Mississippi (Senator Thad Cochran), New York (Senator Kirsten Gillibrand) and Alaska (Senator Lisa Murkowski).
Topics: IMLS, News & Information | Comments Off on Senator Reed introduces IMLS reauthorization bill
By Donna DiMichele | December 19, 2017
The Library Freedom Institute (LFI) is a privacy-focused training for librarians to teach them the skills necessary to thrive as Privacy Advocates: from installing privacy software to influencing public policy.  The Program is offered by the Library Freedom Project (LFP).
Building on the success of the LFP's shorter courses, participants will learn how to:
Install, configure, and troubleshoot privacy software like Tor Browser.
Make your library as safe as it can be, and give visitors as much privacy as possible by using with the latest secure practices and tricks.
Educate and train your community on privacy best practices.
Support privacy rights as an advocate by pushing for privacy-first policies and legislation.
Library Freedom Institute is a six-month program for a select group of librarians made possible by generous support from the Institute of Museum and Library Services. Participants will spend 5 hours per week on a combination of readings, webinars, exercises, class discussion, and assignments. LFI is a free online course with one in-person requirement, which will take place on a weekend in New York City.
To be eligible to participate, applicants must complete an application and supply permission from a supervisor. There is no cost to this program; including the weekend in NYC. LFI is primarily seeking public librarians, but welcomes applications from all librarians who do outreach in their communities.
Learn more about the program and the application process online.
Topics: 21st Century Skills in Libraries, Digital Literacy, IMLS, News & Information, Technology | Comments Off on Library Freedom Institute
By Donna DiMichele | December 15, 2017
Public libraries are invited to apply for Revisiting the Founding Era, a nationwide project that will use historical documents to spark public conversations about the Founding Era's enduring ideas and themes and how they continue to influence our lives today.
Revisiting the Founding Era is a project of the Gilder Lehrman Institute of American History in collaboration with the American Library Association (ALA) and the National Constitution Center. The project is supported by the National Endowment for the Humanities (NEH).
Up to 100 U.S. public libraries will be selected to host programs related to the American Revolution and the early years of the nation.
Participating libraries will receive:
10 copies of a 100-page reader containing selected documents from the lauded Gilder Lehrman Collection, one of the great archives in U.S. history
$1,000 to help implement discussion groups and other public programs
Training, resources and support
Libraries, working in collaboration with scholars, local experts and others, will be asked to implement at least three public programs for adult and teen audiences. Topics may include the rights of citizens versus the rights of government; who is "we the people?"; and decision-making and taking action.
Read the full project guidelines and apply online by January 31, 2018. Public libraries serving rural or underserved communities are especially encouraged to apply.
Revisiting the Founding Era will be administered by ALA's Public Programs Office.
About the American Library Association
About the Gilder Lehrman Institute of American History
About the National Constitution Center
About the National Endowment for the Humanities
Topics: ALA, Grants | Comments Off on Public libraries: apply for Revisiting the Founding Era funding
By Donna DiMichele | December 14, 2017
The Institute of Museum and Library Services (IMLS) is accepting applications for the second cycle of the FY 2018 National Leadership Grants for Libraries (NLG-L) and Laura Bush 21st Century Librarian Program (LB21). This is the final opportunity to apply for the FY 2018 NLG-L and LB21 grant programs.
The NLG-L program invests in projects that address challenges faced by the library and archive fields and generate results such as new tools, research findings, or models that can be widely used. The LB21 program supports professional development and training projects for libraries and archives.
Applicants have through February 1, 2018, to submit their two-page preliminary proposals.
From the preliminary proposals received by the February 1 deadline, IMLS will select applicants and invite them to submit full proposals by June 8, 2018.
See the grant program pages for more information about the types of activities that can be funded through NLG-L or LB21.
Webinars
Informational webinar recordings will be made available on the IMLS website. For information about how to access the webinar recordings, see the IMLS webinar webpage, which includes information about system compatibility.
IMLS staff members listed on the NLG-L and LB21 webpages are available by phone and email to answer general questions related to the programs.
Topics: Grants, IMLS | Comments Off on Call for Applications for IMLS Grants
By Donna DiMichele | December 13, 2017
As part of Rhode Island's efforts to mark the centennial of America's participation in World War I (1917 – 1919), the Rhode Island World War One (RIWW1CC) will be hosting "Doughboy Roadshow," an event similar to a combined "Antiques Roadshow" and "Genealogy Roadshow."
Saturday, March 10, 2018
9:00 am – 4:00 pm
Aldrich House, 110 Benevolent Street, Providence, RI
This event is free and open to the public.
The intent of the "Antiques Roadshow" element of the event is to introduce members of the public to experienced appraisers and subject matter experts who can help them correctly identify and appraise their World War I related militaria (excluding firearms), artifacts, documents, etc. The public will be asked to bring their World War I related items (excluding firearms) for identification and a free informal (non-binding) appraisal.
The intent of the "Genealogy Roadshow" element of the event is to introduce members of the public to experienced genealogists and archivists who can help them with their research into the World War I veterans in their family tree.
Personnel from the Connecticut State Library will be supporting the photographing and scanning of historically relevant items. The Aldrich House is a property of the RI Historical Society. Directions
Contact Matthew McCoy at  for further details.
Matthew Baldwin McCoy
Commissioner & State Coordinator
Rhode Island World War One Centennial Commission
C: (401) 447-0984
Topics: Events, News & Information, Preservation | Comments Off on WWI Centennial: Doughboy Roadshow
By admin | December 6, 2017
The following opportunity from the University of Maryland may be of interest to school or youth services librarians:
Graduate Certificate of Professional Studies in Youth Experience: Application Window Open and Information Sessions
Applications for the second cohort of students in the Graduate Certificate of Professional Studies in Youth Experience (YX) offered by the College of Information Studies at the University of Maryland is now open. This innovative, online post-masters certificate gives youth service librarians and school librarians the skills they need to integrate the latest research on learning, technology, community partnerships, and design thinking into their practice with youth ages 0-18. Limited scholarships, generously supported by the Institute of Museum and Library Services, are available on a competitive basis. To learn more about the certificate program, watch this short video available at youTube or visit the University of Maryland College of Information Studies Youth Experience website.
Additionally, the YX faculty will host online information sessions on December 11th, 2017 at 8 pm EST and January 16th, 2018 at 7pm EST. The information sessions will describe the courses in this certificate and how they will enhance librarians' skills to incorporate design thinking, participatory design, and connected learning into their programs and services. We will also be providing details on the application process at this time. The sessions will be recorded and the link made available after. If you are interested, please complete the following form to either attend the session or to receive the recording: https://go.umd.edu/YXinterest.
Questions? E-mail the UMD College of Information Studies.
Topics: News & Information | Comments Off on Post Graduate Certificate in Youth Experience
« Previous Entries