By admin | May 13, 2013
OLIS will be sponsoring two sessions at the upcoming RILA Conference, to be held June 3-4 at beautiful Salve Regina University in Newport, right on the Cliff Walk.
Marci Merola, Director of the Office for Library Advocacy for the American Library Association will present Advocating for Libraries: Keys to Success to help you learn key arguments and lines of reasoning to use when talking about libraries with legislators and other key stakeholders.
Gloria Stuart, Assistive Technology Consultant from TechACCESS of Rhode Island, will talk about eBook readers and accessibility.  eBook readers and emerging technologies used in library programs should be accessible to users of all abilities – if your library distributes eReaders or is considering it, you should attend this session to make sure your program complies with ADA accessibility requirements.
Don't miss these and other great sessions on all aspects of librarianship for all types of libraries!  Join us at the annual RILA conference.  And register by May 13 for the early bird rate!
And don't miss the opportunity to meet any and all AskRI vendors and learn more about AskRI while you're there.  (That's AtoZdatabases, EBSCO, Learning Express, Mango Languages, ProQuest, Tutor.com and World Book.)
Topics: Events | No Comments »
By Donna DiMichele | May 9, 2013
ALA provides a great resource in its "E-Book Media and Communications Toolkit.
It's all online at http://www.ala.org/transforminglibraries/ebooktoolkit
Topics: 21st Century Skills in Libraries, ALA, eBooks, Resources, Technology | No Comments »
By karen | April 30, 2013
There have been some exciting enhancements to EBSCO's Points of View Reference Center (PoV), including new and updated content.  A new interface is coming soon that will improve the user experience, add visual appeal and offer expanded content for patrons.  PoV is available on AskRI, click on the EBSCO link.
Enhancements to EBSCO include:
New and Updated Content
EBSCO has added 61 new topics to Points of View Reference Center, bringing the total number of topics in the product to 343.
All existing PoV topic content has undergone a comprehensive annual content and bibliographic update.
New Interface (coming soon)
This summer, EBSCO will unveil a new user interface for PoV featuring an updated landing page and improved navigation. Key updates include:
Revised navigation with topic trees

Topical landing page and detailed record format

Access to Common Core and State Curriculum Standards benchmarks
Topics: News & Information, Resources | Comments Off
By Donna DiMichele | April 25, 2013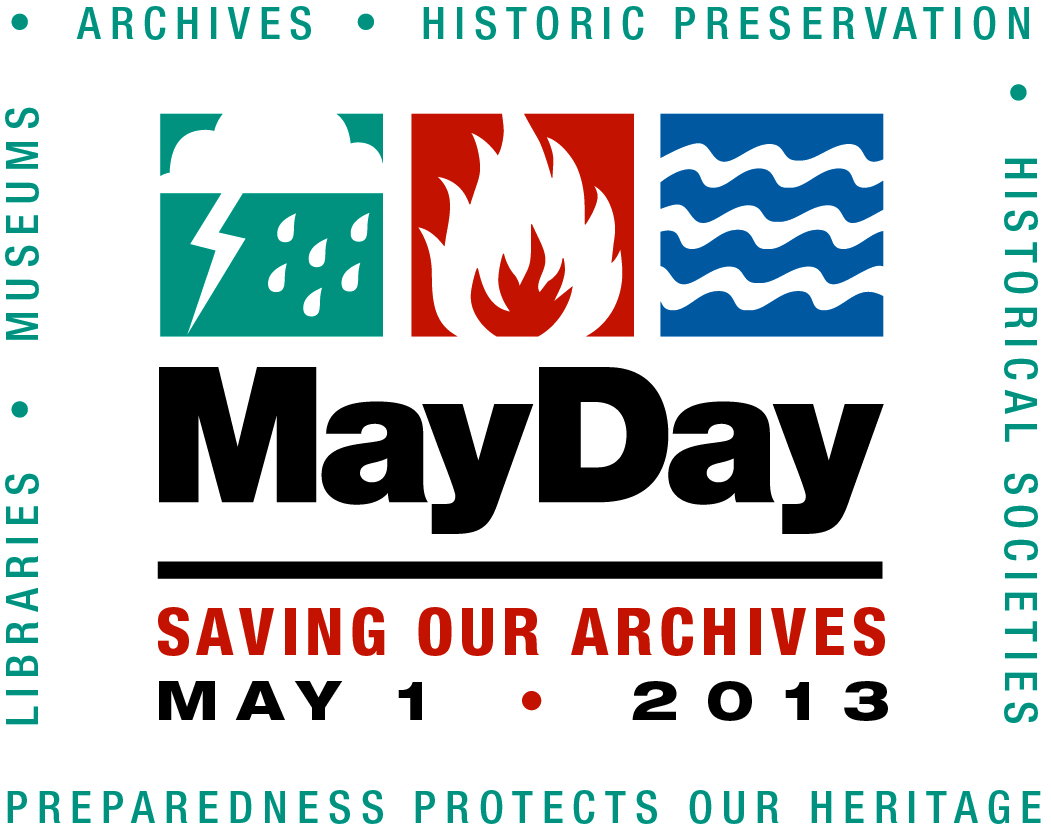 MayDay, MayDay, MayDay!
A post from guest blogger, Sarah Hudson, Project Assistant for Protecting the Past – RI.
Protecting the Past – RI is joining the effort to encourage libraries, museums, archives, historical societies and preservation organizations to set aside May 1, 2013 to participate in MayDay, a national effort to prepare for disaster.
This MayDay, Protecting the Past – RI will be offering emergency preparedness resource binders to cultural heritage organizations throughout Rhode Island.  These binders, valued at $50, provide information about planning for, mitigating against, and recovering from disaster.  They are available at no cost to Rhode Island's cultural heritage organizations because of support from an Institute of Museum and Library Services Connecting to Collections grant.  Please contact Theresa Woodmansee at 401.253.1619 or Sarah Hudson at 401.952.4374 to reserve your copy today. Quantities are limited.
Take time on May 1st to:
review your institution's insurance policy,
update your disaster plan,
or hold a fire drill.
A disaster can strike anytime.  Completing even one MayDay activity will help ensure that your organization is prepared.
For more suggestions on MayDay efforts please visit: http://www.heritagepreservation.org/programs/tflessons/MayDay.html
Protecting the Past – RI is funded by a grant to the Rhode Island Office of Library and Information Services (OLIS) from the Institute of Museum and Library Services as part of the Connecting to Collection: Statewide Planning and Implementation Grant program.
Topics: IMLS, News & Information, Preservation, Resources | Comments Off
By karen | April 23, 2013
Registration for the annual RI Library Association conference is now open.  This year's program features keynote addresses by activist librarian Andrew P. Jackson and NPR book critic Dr. Maureen Corrigan.  In addition, there are 26 programs, lots of poster sessions, evening social events (including a special tour of the Redwood Library), and new this year, vendor demos.
Among the vendors will be representatives from all the resources available on AskRI.  Don't miss this unique opportunity to learn more about the individual AskRI databases and the latest updates from the companies that developed them.  (That's AtoZdatabases, EBSCO, Learning Express, Mango Languages, ProQuest, Tutor.com and World Book.)  There will also be a number of other vendors at the conference who provide products to RI libraries, so this is a great opportunity to learn about the latest developments on the products you use . . . or could use!
And we'll be there too.  Join OLIS at the RILA conference in the City by the Sea.  June 3-4, Salve Regina University.
Topics: Events | Comments Off
By lauren | April 19, 2013
Money Smart Week at libraries across the country starts April 20th. In Rhode Island alone, there are 18 events planned. This year, topics range from couponing to salary negotiation. Events will be held in Woonsocket, Greenville, North Scituate, Middletown, Harmony, Tiverton, West Warwick, the Phillips Library at Providence College, Cumberland, and Cranston's Oak-Lawn branch. All events can be found on the Money Smart Week calendar.
Money Smart Week @ Your Library is a partnership between the American Library Association and the Chicago Fed as part of a greater national financial literacy initiative.
Topics: News & Information | Comments Off
By ann | April 19, 2013
Here's a way to celebrate National Library Week and the wonderful services that public libraries offer. Keep blind children reading. Libraries are an important public service for young Rhode Island residents. Together, Rhode Island public libraries and Talking Books Plus can provide access to strong reading collections for Rhode Island's blind children and children with visual and physical challenges. Libraries are a great source of reading pleasure and information for children who cannot read regular print. Contact Talking Books Plus at 574-9310 to learn what it means to be an institutional member of Talking Books Plus. Be the resource for blind and physcially challenged readers living in your community. RI Talking Books Plus is a member of the National Library Services for the Blind and Physically Handicapped.
Topics: News & Information, Resources | Comments Off
By ann | April 18, 2013
Access for All Abilities (AAA) Mini-Grants deadline extended to May 3, 2013. For complete details and to access the application, go to www.sherlockcenter.org.
Topics: Grants, News & Information | Comments Off
By Donna DiMichele | April 10, 2013
New England Music Library Association Meeting
When: Friday, May 10, 2013
Where: Dartmouth College, Hanover, New Hampshire
The program will include the following presentations:
Anthony Helm (Dartmouth College) Enabling and Encouraging Student Media Production in the Jones Media Center
Anna Kijas (University of Connecticut) Creating an Alt-Bio-Bibliography using Omeka and Geo-spatial Tools
Ramona Islam (Harvard Library) and Reed Lowrie (Harvard Library) Busy Bees: Training Non-Music Librarians to do Music Reference
Sam Cook (University of Hartford) Improving OPAC Displays Through XSLT: A Koha Success Story
There will be opportunities to vist the Music Library and Baker/Berry Library, and attend the annual Pow-Wow held on the campus on Saturday.
The registration fee is $12; students, retired, and unemployed persons are eligible for a reduced rate of $6.
A catered lunch will be available for an additional $12. Payment will be taken at the meeting for both registration and lunch. NEMLA accepts all major credit/debit cards, checks, and cash.
If you are attending a NEMLA meeting for the first time, the registration fee may be waived. However, please be sure to register so you will have a name tag and to ensure adequate refreshments.
Register online  by Friday, May 3, 2013.
Please visit the NEMLA wiki  for current information regarding the program, meeting registration, restaurants in the area, and more.
If you have questions, contact  Jennifer Hunt
Program Chair & Vice-Chair,
New England Music Library Association
https://twitter.com/NEMLA5
Topics: Events, News & Information | Comments Off
By Donna DiMichele | April 10, 2013
Call for Applications for the Digital Preservation Management Workshop
The Digital Preservation Management Workshop is happy to announce  a five-day Digital Preservation Management Workshop directed by Nancy McGovern.
When: 6/9/2013 6:00 PM EDT – 6/14/2013 12:00 PM EDT
Host: Massachusetts Institute of Technology in Cambridge, Massachusetts.
The on-line Application will open this Thursday, April 11th at 11:00am eastern time.  Spaces are limited to 24 so we encourage you to submit your application sooner than later.
Workshop Goals
Promote Practical and Responsible Stewardship of Digital Assets
Foster critical thinking in a technological realm and provide the means for exercising practical and responsible stewardship of digital assets in an age of technological uncertainty. The workshop sessions are geared towards making a digital preservation program doable for any organization and all of the sessions include as many relevant examples as possible.
Workshop Audience
The workshop series is intended for managers who are or will be responsible for digital preservation programs in libraries, archives, and other cultural institutions.
Workshop Content
The workshop includes interactive presentations, group discussions, exercises, individual assignments, and a keynote presentation by an international expert in digital preservation. Workshop attendees explore the range of components needed to develop an effective digital preservation program. Workshop materials include action plans for organizations to complete when participants return to their institutions. Action plans result in organization-specific plans that incorporate technical, financial, organizational, and policy aspects encompassing the full life cycle of digital objects. The workshop focuses on strategies for organizations to implement now, while research and development goes forward in creating longer-term solutions that can be incorporated into the program framework.
Contact Digital Preservation Management Workshop organizers
Topics: 21st Century Skills in Libraries, Continuing Education, Digital Literacy, Preservation, Technology | Comments Off
« Previous Entries