By Donna DiMichele | February 24, 2017
Using ALA's Libraries Transform Campaign for Your Library
Register for a free webinar to provide libraries with information and training about ways to incorporate Libraries Transform messaging into regular communication channels and leverage the campaign in advocacy activities, such as legislative day. Other topics will include:
Using the toolkit materials, including logos, Because statements and graphics
Customizing key messages from the campaign to appeal to the public and key stakeholders like local legislators
Incorporating the campaign with your current brand
Presenter: Jeff Julian, Director, Public Awareness Office, American Library Association.
Date and time: March 14, 2017, 2:00PM – 3:00PM ET
More information and registration are online.
The program is offered by National Network of Libraries of Medicine.
Topics: ALA, News & Information, Resources | No Comments »
By alicia | February 23, 2017
The Law Librarians of New England (LLNE) are sponsoring a scholarship for public librarians to attend the Legal Research Instruction Program (LRIP), a legal research class for librarians in Boston.
All public librarians in New England are encouraged to apply!
The Legal Research Instruction Program (LRIP) is a six week seminar geared towards librarians interested in learning more about legal research.
Each week, a different aspect of legal research is covered, everything from an overview of the U.S. legal system to finding transactional law documents. The class will run on Tuesday evenings from March 14th – April 25th (with no class on April 18th). This year, one week will be online and the remaining classes will be held from 5:45 p.m. to 8:00 p.m. at Suffolk Law in Boston. For more information about the LRIP course, go to http://llne.org/legalresearchinstruction/intro_course/ or contact Brian Flaherty at bflaherty@nesl.edu.
The LLNE Service Committee is providing two scholarships to cover the cost of registration. Applicants must be public librarians from the New England area. For more information and to apply, go to http://llne.org/committees/service/.
Please send applications to Nicole Dyszlewski at ndyszlewski@rwu.edu by Thursday, March 2, 2017.
If you have questions, please contact the co-chairs of the Service Committee, Joshua LaPorte (joshua.laporte@uconn.edu) and Jessica Jones (jjones@sociallaw.com).
Topics: News & Information | No Comments »
By Donna DiMichele | February 13, 2017
The Rhode Island Foundation is now accepting applications for the Joseph O'Neill Ott Fund and the RI Supreme Court Historical Society Fund.
The Joseph O'Neill Ott Fund supports the preservation of historical manuscripts, documents and municipal records dating from the 19th century and earlier from the smaller cities and towns in Rhode Island. Grants generally range from $250-$600 and support direct conservation efforts for paper-based documents, photographs, and other two-dimensional historical evidence (excluding artwork). This can include restoration, preservation, or to defray the costs associated with the acquisition of documents. Proposals that demonstrate concern about long-term storage issues or have planned document storage will be looked upon most favorably. All historical and preservation societies and libraries from the smaller cities and towns of Rhode Island are eligible to apply.
The Rhode Island Supreme Court Historical Society Fund supports nonprofit organizations that wish to provide programs that preserve the history of the Rhode Island Supreme Court and the Rhode Island judicial system, preserve artifacts and records of the court system, publish works of history about Rhode Island legal history, and offer public forums about Rhode Island legal and constitutional history. Organizations should provide matching resources in funds or through in-kind services. Funds may not be used for the purchase of equipment.
The deadline to apply is March 10, 2017. Please click here to apply for the Joseph O'Neill Ott Fund and here for the Rhode Island Supreme Court Historical Society Fund. If applicable, you may apply for funding from both funds.
Questions? Contact Kelly Riley, Donor Services Administrator, at 401-427-4028 or kriley@rifoundation.org.
Topics: Grants, News & Information, Preservation | No Comments »
By Donna DiMichele | February 7, 2017
The American Library Association Public Programs Office announced that school libraries are invited to apply for a $5,000 award recognizing outstanding humanities programming. Libraries serving grades kindergarten through eighth grade are eligible. ALA press release
Nominations for the 2017 Sara Jaffarian School Library Program Award for Exemplary Humanities Programming will be accepted until May 5, 2017. Applications, award guidelines and a list of previous winners are available on the ALA website.
Topics: ALA, Grants, News & Information, Resources | Comments Off on School libraries invited to apply for Sara Jaffarian Award
By Donna DiMichele | January 26, 2017
A recently issued report from the Institute of Museum and Library Services and Reinvestment Fund provides frameworks for libraries and museums to connect with their communities. Produced as part of the Community Catalyst Initiative, the report is a handbook for libraries and museums to position themselves as critical sites within broader social and institutional networks that support community well-being.
"Strengthening Networks, Sparking Change: Museums and Libraries as Community Catalysts" combines findings from a literature scan and input from the library, museum and community revitalization fields with case studies about the experiences and vision of museums and libraries working to spur change in their communities. It describes the complementary conceptual frameworks of social well-being and collective impact and explains how libraries and museums can use these concepts to partner with community-based organizations, government agencies and other cultural or educational organizations. It catalogs how partnerships are initiated; what tools and methods are available to assess community need and evaluate impact; and the skills and competencies needed to sustain partnerships.
Read the complete IMLS press release
Topics: Future of Libraries, IMLS, News & Information, Resources | Comments Off on Libraries as Community Catalysts: A New IMLS Report
By Donna DiMichele | January 26, 2017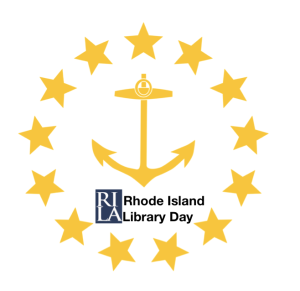 The Rhode Island Library Association (RI) has announced that the 3rd Annual Rhode Island Library Day will be on Saturday, April 8, 2017, a date which kicks off National Library Week (April 9th-15th, 2017).
The purpose of RI Library Day is to host events and plan activities that will raise awareness about the wonderful things Rhode Island libraries are doing and how Rhode Islanders benefit from their libraries.
RILA hopes that libraries will choose to join this celebration of Rhode Island libraries and begin planing events to mark the occasion.
For more information and resources, contact contact Andrew Creamer or Beth Ullucci, Co-Chairs, RI Library Day Planning Committee.
Topics: Events, News & Information | Comments Off on RI Library Day
By Donna DiMichele | January 25, 2017
Dozens of teachers in communities across Rhode Island will receive nearly $190,000 through the Spark Grants program at the Rhode Island Foundation.
Launched by philanthropists Letitia and John Carter in 2013, the program offered school-wide reading grants of up to $10,000 for the first time this year. Elementary schools in seven communities will receive grants for proposals that will inspire a life-long love of reading in students.
The program also continued to offer full-time third-grade teachers in any public or charter school statewide grants of up to $1,000 for classroom innovation. Sixty teachers statewide received grants this year.
Read the full story on the RI Foundation blog
Topics: Grants, News & Information | Comments Off on RI Foundation Awards to RI School Libraries
By Donna DiMichele | January 23, 2017
The Rhode Island Library Association's Information Literacy Action Round Table (RILA-ILART) is hosting a lesson swap. RILA-ILART is looking for librarians who would like to share successful lessons, or lessons that could be perfect with some feedback. Lessons from all levels and library types, from school to university to public, that relate to an information literacy topic are welcome. The Lesson Swap is an opportunity to connect librarians across library types to share pedagogy and exchange effective lessons, materials, and ideas.
When: Wednesday, March 1 from 4:30-6:30 PM
Where: Bryant University, Smithfield, RI
Snow date: Wednesday, March 29
Lesson swap presenters should come prepared to teach a 20 minute sample lesson to colleagues as if presenting to the lesson's target audience. A 10 minute Q&A session will follow each lesson to provide an opportunity for questions and feedback. A laptop with screen will be provided. Please bring hard copies of any handouts (You will be told how many you'll need before the event.)
To submit a proposal to present a lesson, please fill out the online form by February 3. The organizers will contact presenters by February 10.
For more information contact:
Maura Keating, Co-chair, RILA-ILART
Mary MacDonald, Co-chair, RILA-ILART
Topics: Digital Literacy, Events, Literacy, News & Information | Comments Off on RILA-ILART Lesson Swap
By Donna DiMichele | January 5, 2017
Bi-literacy legislation signed into RI law
Gov. Gina Raimondo signed a bill creating a "biliteracy seal" that school districts can affix to the diplomas and transcripts of high school graduates who demonstrate proficiency in another language in addition to English. The law was signed during a ceremonial bill signing on July 20, 2016.
The new law, sponsored by Sen. Juan M. Pichardo and Rep. Teresa Tanzi, is meant to recognize students who have achieved high levels of proficiency in multiple languages, encourage more to do so and help employers identify job applicants who have the sought-after skill of communicating in multiple languages. MORE
Topics: Literacy, News & Information | Comments Off on Bi-literacy legislation signed into RI law
By Donna DiMichele | January 4, 2017
A La Rhody – Rhode Island's rich culinary history

Leaders from local educational, cultural and tourism organizations have joined together to encourage like-minded groups to participate in a year-long program aimed at exploring Rhode Island's rich heritage through its culinary history. The initiative, called A La Rhody, will include programs and special events with a food focus.
Organizing partners include Providence Public Library, Rhode Island Historical Society, Providence Department of Art, Culture & Tourism, Discover Newport, Providence Warwick Convention & Visitors Bureau, and the Rhode Island Commerce Corporation. The group worked for nearly one year to develop a slate of lectures, exhibits and events with a culinary theme, as a well as a branded marketing presence. A formal launch will take place in early January, in conjunction with Providence Restaurant Week.
The group held a community event at the Aldrich House to introduce the program to other community partners and is asking those interested in participating to visit the website alarhody.org to get more information and/or submit an event for inclusion. The project's goal is to spark a statewide conversation and shared experiences around the role of food in Rhode Island lives and communities.
Topics: Events, News & Information, Resources | Comments Off on A La Rhody – Rhode Island's rich culinary history
« Previous Entries