By Donna DiMichele | April 29, 2016
Seven federal agencies have announced the second round of Performance Partnership Pilots for Disconnected Youth (P3). The funding will support efforts to help young people between the ages of 14 and 24 who are low-income, homeless, in foster care, in the juvenile justice system, unemployed, not enrolled in school or at risk of dropping out.  P3 will test innovative, outcome-focused strategies to achieve significant improvements for disconnected youth in educational, employment, and other key outcomes. The estimated range of awards is $250,000 to $350,000, and the agencies will name up to 10 pilots.
Application deadline: June 27, 2016.
Optional Notice of Intent to Apply deadline: May 26, 2016.
P3 applicants must already receive federal funds for projects of similar scope from one or more of the participating agencies: IMLS; the Departments of Education; Labor; Health and Human Services; Justice; and Housing and Urban Development; and the Corporation for National and Community Service.  State, local or tribal governments can apply as lead applicants for P3, and local libraries and non-profits may also be well-suited as P3 partners; in the first round of the competition, for example, an LSTA-funded public library was named as a partner in the Broward County (FL) pilot.
P3 allows flexibility under federal statutes, regulations, and other requirements to overcome barriers and align program and reporting requirements, enabling applicants to propose the most effective ways to use these dollars.
As with the first round of P3, there are separate categories of consideration (absolute priorities) for rural and tribal applicants.  There is also a new absolute priority for communities that have experienced recent civil unrest.  There are a variety of other competitive priorities detailed in the notice.
A P3 webinar ("bidders conference") scheduled for Monday, May 9, at 1:00pm Eastern Time, will cover details from the notice including program requirements and selection criteria.  You can register in advance at youth.gov, which serves as the clearinghouse for P3 information. The recording will also be available later.
Direct any questions to disconnectedyouth@ed.gov
Topics: Grants, IMLS, News & Information | Comments Off on Performance Partnership Pilots for Disconnected Youth
By Donna DiMichele | April 29, 2016
Community-building activities in each of Rhode Island's 39 cities and towns were awarded Centennial Grants totaling $500,000 from the RI Foundation. The projects include public fountains, recreational trails, Little Free Libraries, a community orchard, and much more. Public libraries are partners in grants awarded to East Greenwich and Cranston.
The East Greenwich Housing Authority and its affiliated nonprofit Cove Homes Inc. received $1,500 to construct, manage and maintain three Little Free Libraries at the three affordable housing developments for families in town. "This will help us bring donated children's books into the hands of more than 100 children living in our housing developments," said Marcia Sullivan, CEO of Cove Homes. "By partnering with the East Greenwich Free Library, we look forward to engaging our young people and their families in important early literacy programs."
The City of Cranston received $15,000 for the Cranston Discovery Network, a municipally led effort to document and celebrate significant events, places and people in Cranston's history. Working with the Cranston Herald, the Cranston Public Library, the Cranston School Department, the Senior Center and the Cranston Historical Society, the Cranston Discovery Network will design, fabricate and install a series of historic markers throughout the city of Cranston.
Topics: Grants, Literacy, Preservation | Comments Off on RI Foundation Centennial Community Grants Awarded
By alicia | April 21, 2016
RILA Information Literacy Action Round Table (ILART) invites you to attend:
Teaching for Non-Teachers: Harnessing Cognitive Science to Improve Teaching
Presented by Eric Kaldor, Ph.D.
Assistant Director, Faculty Development, Office for the Advancement of Teaching and Learning, University of Rhode Island
Wednesday, May 11, 3pm – 5pm
University of Rhode Island, Carothers Library
In this workshop, participants will learn four strategies for designing effective workshops and lessons in libraries and schools. Participants will learn more about how the brain works to better understand how people learn. This session converts this rich knowledge base into four practical strategies to use when developing a workshop or session in any library setting.
To register, please visit:
http://goo.gl/forms/ony5wMU5dH
Topics: News & Information | Comments Off on RILA Information Literacy Action Round Table (ILART)
By Donna DiMichele | April 14, 2016
Preservation Assistance Grants help small and mid-sized institutions—such as libraries, museums, historical societies, archival repositories, cultural organizations, town and county records offices, and colleges and universities—improve their ability to preserve and care for their significant humanities collections. These may include special collections of books and journals, archives and manuscripts, prints and photographs, moving images, sound recordings, architectural and cartographic records, decorative and fine art objects, textiles, archaeological and ethnographic artifacts, furniture, historical objects, and digital materials. Full program description
DEADLINE MAY 3, 2016 for projects beginning January 2017.
Register on Grants.gov before you begin the application.
Contact the staff of NEH's Division of Preservation and Access at preservation@neh.gov and 202-606-8570. Applicants who are deaf or hard of hearing can contact NEH via TDD at 1-866-372-2930.
Topics: Grants, Preservation, Resources | Comments Off on Preservation Assistance Grants for Smaller Institutions
By admin | April 6, 2016
Join alumni, students, friends, and faculty at the 2016 University of Rhode Island Graduate School of Library and Information Studies Annual Gathering  on Friday, April 15, 2016.  The featured speaker is Dr. Micah Altman, Director of Research and Head/Scientist, Program on Information Science for the MIT Libraries.
This year's honorees include:
Alumni of the Year:
Norm Medeiros
ALA ALCTS President for 2015-16, and Haverford College Librarian
Jenn Cournoyer
Young Adult/Reference Librarian, Cumberland Public Library
Library of the Year: Cranston High School East
Tickets for the GSLIS Annual Gathering are available online.
Topics: Events, News & Information | Comments Off on 2016 GSLIS Annual Gathering
By Donna DiMichele | March 31, 2016
Cranston Public Library announced that it has been named the third place recipient of the 2016 LibraryAware Community Award. This national award, given by Library Journal and underwritten by LibraryAware™ (a product of the NoveList division of EBSCO Information Services), recognizes model communities that engage with their libraries to improve the lives of their citizens and create life-long learners and library users.
The award comes with a $5,000 prize, which the library has dedicated to future outreach, marketing, and public relations projects. Other winners include the Louisville Free Public Library in Kentucky, who received first place; and the Brooklyn Public Library, New York Public Library and the Queens Public Library, who entered jointly and took second place.
"Firing On All Cylinders, 2016 LibraryAware Community Award"
Topics: Literacy, News & Information | Comments Off on Cranston Public Library Receives LibraryAware Award
By karen | March 29, 2016
Karisa Tashjian, director of the Rhode Island Family Literacy Initiative and Education Director at Providence Public Library, was named a runner up for the Commission on Adult Basic Education (COABE) Outstanding Administrator of the Year award.  COABE is a 13,000 member national organization that provides leadership, professional development and advocacy for adult education and literacy practitioners.
Karisa's dedication to adult education and her strong advocacy of the library's role in adult education has earned her state and national attention. In Rhode Island, Karisa has brought libraries together with partners in the areas of workforce development and education to develop a coordinated effort to address both traditional and digital literacy, English language learning and workforce skills.  She is the project director for ALL (Adult Lifelong Learning) Access in the Libraries, an Institute of Museum and Library Services National Leadership Grant award.
OLIS congratulates Karisa and is proud to be a partner in ALL Access and other adult education initiatives as a direct result of Karisa's tireless work.
Read about Karisa's award and accomplishments on the COABE website.
Topics: News & Information | Comments Off on RIFLI Administrator Named as Outstanding Administrator
By karen | March 29, 2016
Thanks to the RI Library Association for coordinating this event, which was a great success last year.  We hope all libraries participate again this year.  RILA has graphics and sample letters to invite local officials to your library available on its Library Day webpage.  Help raise awareness of all the wonderful things that happen in RI libraries everyday by participating in this National Library Week event!
From RILA:
The Rhode Island Library Association (RILA) invites you to participate in the 2nd Annual Rhode Island Library Day on Saturday, April 16, 2016, a date which caps off National Library Week (April 10-16th, 2016).  The purpose of this day is to host events and plan activities that will raise awareness about the wonderful things Rhode Island libraries are doing and how Rhode Islanders benefit from their libraries. We hope that you will choose to join this celebration of Rhode Island libraries and begin working within your organization to plan events to mark the occasion.
As part of the celebration, we are encouraging Rhode Island's public libraries to participate in an Amnesty Day for those returning overdue materials on April 16th.  There are numerous ways that libraries can participate, both big and small.  Some ideas for activities and events from public and academic libraries celebrating last year's Rhode Island Library Day include:
Hosting author visits or guest lectures
Having raffles and door prizes throughout the day
Storytimes by special guests (local and/or state government officials, local celebrities, etc.)
Crafts and makerspace activities
LEGO® programs
Book sales
Special youth programming – magic shows and entertainment
Movie marathons
Technology open houses
Tours for the public
Food giveaways
Meet and greet with faculty
If you and your organization are planning to celebrate Rhode Island Library Day, then we would love to hear from you and hear about the events and activities you have in the works, so that we can help disseminate and share these with our library colleagues in RI.  Please contact Andrew Creamer andrew_creamer@brown.edu or Beth Ullucci bullucci@burrillville.org with your planned events and activities or questions by March 18, 2016.
Topics: Events, News & Information | Comments Off on Rhode Island Library Day – April 16
By Donna DiMichele | March 16, 2016
5th Annual Financial Literacy Awareness Series, Money Smart Week®, launches across Rhode Island from April 23 – 30, 2016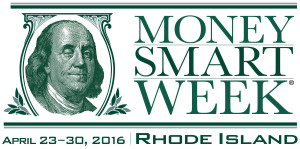 The Rhode Island Library Association (RILA) will launch the 5th annual financial literacy awareness series, Money Smart Week®, across Rhode Island from April 23 – 30, 2016 with events scheduled in libraries and community spaces throughout the state. Money Smart Week (MSW) is a national initiative from the Chicago Federal Reserve and the American Library Association that promotes financial literacy awareness. Money Smart Week events are free and open to the public at businesses, financial institutions, schools, libraries, nonprofits and government agencies throughout the country on topics including kids and money, unemployment, managing student debt and retirement. To learn more about Money Smart Week® visit www.moneysmartweek.org
RILA is asking RI libraries and community partners to support MSW and spread the word to the public about events happening during Money Smart Week across RI. RILA's Financial Literacy Roundtable hopes to see an increase in attendance this year (623 people attended 48 MSW events in 2015) and cannot achieve this goal without your continued support.
You can promote Money Smart Week by posting the official Money Smart Week logo and a link to the Money Smart Week events calendar on your home page and on social media (Facebook, Twitter, etc.). The Chicago Federal Reserve has created state specific logos for use in promoting Money Smart Week and maintains the events calendar on their website.
Sample press releases from the MSW Media Kit include:
Money Smart Week is around the corner! Take advantage of our FREE workshops…there are many scheduled in RI! www.moneysmartweek.org/findevents
It's too bad money doesn't come with instructions because we all need to know how to spend it, save it and borrow it wisely. Banks, businesses, schools, libraries and many others are joining together to help support financial education during Money Smart Week – April 23rd through the 30th. Numerous free education programs are available to the public on all facets of financial education. Learn to be Money Smart. For information and activity listings near you, visit www.moneysmartweek.org/findevents
For your convenience, the links embedded in the above press release are listed here:
Money Smart Week 2016 Event Calendar http://www.moneysmartweek.org/findevents
Money Smart Week 2016 Official RI logos http://www.moneysmartweekpartners.org/rhode_island_logo
MSW Media Kit https://d3n8a8pro7vhmx.cloudfront.net/msw/pages/41/attachments/original/1456249505/MediaKit_2016.pdf?1456249505
On Twitter #MoneySmartWeek
If you have any questions, please feel free to contact FLRT@rilibraries.org
Lori DeCesare & Chris Wallace Goldstein
Co chairs of RILA's Financial Literacy Roundtable and Money Smart Week RI
Money Smart Week is an registered service mark of the Federal Reserve Bank of Chicago.
Topics: ALA, Events, Literacy, News & Information, Resources | Comments Off on Smart Money Week – Promote it!
By Donna DiMichele | March 7, 2016
Digital Commonwealth Conference
Enhance your knowledge of the development and preservation of digital collections at the 10th annual Digital Commonwealth Conference.
April 5, 2015
College of the Holy Cross, Worcester, Massachusetts
Keynotes by Society of American Archivists fellows Paul Conway and Richard Pearce-Moses.
Additional sessions include:
Brookline's Wild-Sargent House of 1822: New life through digital and physical preservation
Privacy Panel with Library Freedom Project and ACLU of Massachusetts
Preservation/Digitization: Back to the future – Digitizing the Next Generation of Historic Maps
Digital preservation projects
Creating online exhibits
Full conference information and registration online
Topics: 21st Century Skills in Libraries, Continuing Education, Digital Literacy, News & Information, Preservation, Technology | Comments Off on Digital Commonwealth Conference
« Previous Entries
Next Entries »