By ann | July 23, 2014
For a library service project, Nancy Bolt  presented a paper on dyslexia as a hidden disability. Examples are given of public libraries who "intentionally" serve people with dyslexia. Also, in the paper Nancy talks about the issues in serving people with dyslexia and the national programs that focus on serving people with dyslexia. One of the national programs is the National Library Service for the Blind and Physically Handicapped (NLS). Talking Books Plus library (TBP) at OLIS is the Rhode Island cooperating library of  NLS.
Topics: News & Information, Resources | Comments Off
By ann | July 23, 2014
Be on the Library Edge. If your library offers book discussion programs and you want your programs to be accessible to individuals in your community who are blind, visually limited and or cannot read regular print due to physcial conditions, then call Talking Books Plus (TBP) at 574-9310 or email tbplus.olis@olis.ri.gov for helpful tips and information. Someone at TBP will get back to you. TBP is open Mon-Fri 8:30 am to 4 pm. TBP offers solutions and support to public libraries and TBP Institutional members. Join TBP today to become an Institutional member.
Library Edge, offered by the Bill and Melinda Gates Foundation, tool number 11 addresses issues related to accessibility by people who deal with viusal and physical challenges.
Topics: News & Information, Resources | Comments Off
By Donna DiMichele | July 23, 2014
Does your library have a commitment to excellence and serve its community new and innovative ways? Libraries of all types can apply for the National Medal for Museum and Library Service. Self-nominations are gladly accepted.
All types of nonprofit libraries and library organizations, including academic, research, archives, school, special, library associations, and library consortia, are eligible to receive this honor.
Nominations are due by October 15. More information
Topics: IMLS, News & Information | Comments Off
By Donna DiMichele | July 18, 2014
Digital Preservation Education
How prepared is your library or archives to provide long-term, durable access to its mission-critical digital content? What skills and experience do staff need to address the digital preservation needs of their organization?
The Library of Congress Digital Preservation Outreach and Education (DPOE) Program is conducting a survey designed to capture the digital preservation continuing education, professional development, and training needs of your organization. The Library will in turn use this information to assist with the further development and/or refinement of its digital preservation educational programs and initiatives.  Any organization in the United States and territories engaged in the preservation of digital content is invited to complete the survey through close of business on Friday, August 15, 2014. Take the survey
The survey addresses basic questions about your organization, staff size and responsibilities, collection items, preferred training content and delivery options, and professional development planning. The results will remain confidential. To read more about the survey and the DPOE Program, read the following blog post from The Signal.
Contact information:
Barrie Howard
IT Project Manager
Library of Congress (LM 630)
101 Independence Avenue, SE
Washington, DC 20540-1300
bhow@loc.gov
202-707-1830
Topics: 21st Century Skills in Libraries, Continuing Education, Preservation | Comments Off
By admin | July 16, 2014
RI Education Commissioner Deborah Gist recently posted about the value of OLIS' Summer Reading Program in the "Commissioner's Corner" on the RI Department of Education website.  As librarians across the state know:
School might be on break until September, but learning never takes a vacation.  Your local library might just be the most exciting part of yours!
Check out the Commissioner's Twitter feed, where she frequently promotes books and reading.  Also, during the summer she will will highlight one book from the summer reading list each week on her Facebook page.  The first mini-review is Brown Bear, Brown Bear, What Do You See? and it's generating a number of comments
Thanks to the Commissioner for the shout-out!
Topics: News & Information | 1 Comment »
By karen | July 14, 2014
The American Library Association has joined with other higher education and library groups to release net neutrality principles.  From the ALA Chapter Relations Office:
July 10, higher education and library organizations—including ALA—representing thousands of colleges, universities, and libraries nationwide released a joint set of Net Neutrality Principles they recommend form the basis of an upcoming Federal Communications Commission (FCC) decision to protect the openness of the Internet. The groups believe network neutrality protections are essential to protecting freedom of speech, educational achievement, and economic growth.
Topics: ALA, News & Information | Comments Off
By ann | July 9, 2014
The Samuel P. Hayes Research Library & Archives at Perkins in Watertown, MA is a resource for the public. According to its website, the library holds the largest and most comprehensive collection of the non-medical aspects of blindness and deafblindnes that is available to the public. Visit the online card catalog. Research Librarian, Jan Seymour-Ford is glad to scan any articles or specific book chapters and email them. Materials do not circulate.
The Hayes Library, also, has resource packets, including one available for Laura Bridgman, the first deafblind woman to be educated in the U.S. The packet may be requested or downloaded. The TBPlus blog recently announced that  the fictional biography about Laura Bridgman entitled, What is Visible (DB78666) by Kimberly Elkins, recorded in 2014 is available in download format through the Talking Books Plus BARD service.
Topics: News & Information, Resources | Comments Off
By chaichin | July 9, 2014
Rhode Island libraries and the Office of Library and Information Services have a long history of working with the Department of Labor and Training (DLT) and job seekers to help Rhode Islanders get back to work.  It was only natural then, that the Governor looked to announce the state's latest workforce initiative at a library.
Warwick Public Library was the setting for Governor Lincoln D. Chafee's announcement today that the State of Rhode Island will "go green" by launching Apply RI, a new online system for applying for state jobs. Apply RI is a web-based, workforce management system that provides a streamlined process for job seekers searching for employment with the state.
Job applicants can use the new system to view job openings, create a Job Interest Card, set up an account, and complete an applicant profile. Once an applicant's account and profile are created, the information can be used to apply for specific jobs. Apply RI can be accessed 24-hours a day, seven days a week, and from any computer with internet access.
As of July 1, paper applications to state jobs will no longer be accepted.  All applications must be submitted electronically through Apply RI. For more information, visit the Division of Human Resources website.
Topics: News & Information | Comments Off
By Donna DiMichele | July 3, 2014
The National Partnership for Action to End Health Disparities (NPA) is hosting a webinar focused on community needs assessments in partnership with Community Action Partnership and the National Network of Public Health Institutes (NNPHI). Speakers will provide an overview of the key elements of assessments used by Community Action Agencies, hospitals and public health programs to inform community benefits and services programs. Specifically, presenters will discuss commonalities and differences in the outcomes and applications of the different assessments, the degree to which health equity concerns are captured by these assessments, and opportunities for improved coordination between users of both assessments. http://bit.ly/1odUWCo
Webinar Date and Time:
Wednesday, July 9, 2014
3:00-4:30 pm (Eastern Daylight Time)
Topics: 21st Century Skills in Libraries, Continuing Education | Comments Off
By alicia | July 3, 2014
Celebrate the Freedom to Read With CBLDF's New Banned Books Week Handbook!

Today, Comic Book Legal Defense Fund is proud to release its first-ever Banned Books Week Handbook! Boasting a cover by Jeff Smith, whose Bone series is one of America's most frequently challenged books, the CBLDF Banned Books Week Handbook is a free resource that gives you the scoop about what comics are banned, how to report and fight censorship, and how to make a celebration of Banned Books Week in your community! The CBLDF Banned Books Week Handbook premiered at the ALA Annual Conference in Las Vegas.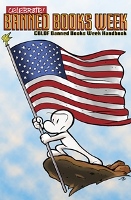 This year's Banned Books Week, which runs September 21 – 27, will have a national focus on comics and graphic novels. CBLDF's Banned Books Week Handbook is an essential tool to assist librarians, retailers, and educators in planning their Banned Books Week celebrations, while also being a vital reference to help readers everywhere fight censorship. The handbook is currently available as a free download on CBLDF.org. Bundles of the printed handbook are also available from CBLDF.org, and in the July issue of Diamond Previews (JUL141050).
Originally posted by Charles Brownstein, Executive Director, Comic Book Legal Defense Fund
Topics: News & Information | Comments Off
« Previous Entries
Next Entries »