By karen | March 29, 2016
Thanks to the RI Library Association for coordinating this event, which was a great success last year.  We hope all libraries participate again this year.  RILA has graphics and sample letters to invite local officials to your library available on its Library Day webpage.  Help raise awareness of all the wonderful things that happen in RI libraries everyday by participating in this National Library Week event!
From RILA:
The Rhode Island Library Association (RILA) invites you to participate in the 2nd Annual Rhode Island Library Day on Saturday, April 16, 2016, a date which caps off National Library Week (April 10-16th, 2016).  The purpose of this day is to host events and plan activities that will raise awareness about the wonderful things Rhode Island libraries are doing and how Rhode Islanders benefit from their libraries. We hope that you will choose to join this celebration of Rhode Island libraries and begin working within your organization to plan events to mark the occasion.
As part of the celebration, we are encouraging Rhode Island's public libraries to participate in an Amnesty Day for those returning overdue materials on April 16th.  There are numerous ways that libraries can participate, both big and small.  Some ideas for activities and events from public and academic libraries celebrating last year's Rhode Island Library Day include:
Hosting author visits or guest lectures
Having raffles and door prizes throughout the day
Storytimes by special guests (local and/or state government officials, local celebrities, etc.)
Crafts and makerspace activities
LEGO® programs
Book sales
Special youth programming – magic shows and entertainment
Movie marathons
Technology open houses
Tours for the public
Food giveaways
Meet and greet with faculty
If you and your organization are planning to celebrate Rhode Island Library Day, then we would love to hear from you and hear about the events and activities you have in the works, so that we can help disseminate and share these with our library colleagues in RI.  Please contact Andrew Creamer andrew_creamer@brown.edu or Beth Ullucci bullucci@burrillville.org with your planned events and activities or questions by March 18, 2016.
Topics: Events, News & Information | Comments Off on Rhode Island Library Day – April 16
By Donna DiMichele | March 16, 2016
5th Annual Financial Literacy Awareness Series, Money Smart Week®, launches across Rhode Island from April 23 – 30, 2016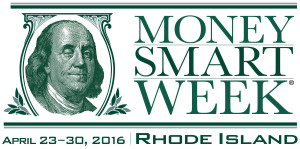 The Rhode Island Library Association (RILA) will launch the 5th annual financial literacy awareness series, Money Smart Week®, across Rhode Island from April 23 – 30, 2016 with events scheduled in libraries and community spaces throughout the state. Money Smart Week (MSW) is a national initiative from the Chicago Federal Reserve and the American Library Association that promotes financial literacy awareness. Money Smart Week events are free and open to the public at businesses, financial institutions, schools, libraries, nonprofits and government agencies throughout the country on topics including kids and money, unemployment, managing student debt and retirement. To learn more about Money Smart Week® visit www.moneysmartweek.org
RILA is asking RI libraries and community partners to support MSW and spread the word to the public about events happening during Money Smart Week across RI. RILA's Financial Literacy Roundtable hopes to see an increase in attendance this year (623 people attended 48 MSW events in 2015) and cannot achieve this goal without your continued support.
You can promote Money Smart Week by posting the official Money Smart Week logo and a link to the Money Smart Week events calendar on your home page and on social media (Facebook, Twitter, etc.). The Chicago Federal Reserve has created state specific logos for use in promoting Money Smart Week and maintains the events calendar on their website.
Sample press releases from the MSW Media Kit include:
Money Smart Week is around the corner! Take advantage of our FREE workshops…there are many scheduled in RI! www.moneysmartweek.org/findevents
It's too bad money doesn't come with instructions because we all need to know how to spend it, save it and borrow it wisely. Banks, businesses, schools, libraries and many others are joining together to help support financial education during Money Smart Week – April 23rd through the 30th. Numerous free education programs are available to the public on all facets of financial education. Learn to be Money Smart. For information and activity listings near you, visit www.moneysmartweek.org/findevents
For your convenience, the links embedded in the above press release are listed here:
Money Smart Week 2016 Event Calendar http://www.moneysmartweek.org/findevents
Money Smart Week 2016 Official RI logos http://www.moneysmartweekpartners.org/rhode_island_logo
MSW Media Kit https://d3n8a8pro7vhmx.cloudfront.net/msw/pages/41/attachments/original/1456249505/MediaKit_2016.pdf?1456249505
On Twitter #MoneySmartWeek
If you have any questions, please feel free to contact FLRT@rilibraries.org
Lori DeCesare & Chris Wallace Goldstein
Co chairs of RILA's Financial Literacy Roundtable and Money Smart Week RI
Money Smart Week is an registered service mark of the Federal Reserve Bank of Chicago.
Topics: ALA, Events, Literacy, News & Information, Resources | Comments Off on Smart Money Week – Promote it!
By Donna DiMichele | March 7, 2016
Digital Commonwealth Conference
Enhance your knowledge of the development and preservation of digital collections at the 10th annual Digital Commonwealth Conference.
April 5, 2015
College of the Holy Cross, Worcester, Massachusetts
Keynotes by Society of American Archivists fellows Paul Conway and Richard Pearce-Moses.
Additional sessions include:
Brookline's Wild-Sargent House of 1822: New life through digital and physical preservation
Privacy Panel with Library Freedom Project and ACLU of Massachusetts
Preservation/Digitization: Back to the future – Digitizing the Next Generation of Historic Maps
Digital preservation projects
Creating online exhibits
Full conference information and registration online
Topics: 21st Century Skills in Libraries, Continuing Education, Digital Literacy, News & Information, Preservation, Technology | Comments Off on Digital Commonwealth Conference
By Donna DiMichele | March 4, 2016
Reading Across Rhode Island 2016
You undoubtedly know that the Reading Across Rhode Island (RARI) 2016 book is The Wright Brothers by David McCullough. You are thinking about incorporating the book into your reading group schedules and perhaps you have considered some programming but really aren't sure where to go with it. The RI Center for the Book has assembled a complete package of resources and programming that you can use to get your library's program off the ground!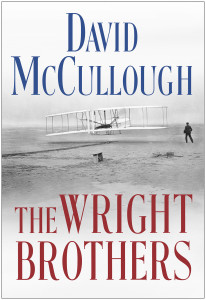 Resource Guide and Speakers
An extensive resource guide  was created by the RARI Committee and speaker Steve Lubar's slides from the Kick-Off event are available online.
You can engage a speaker for your Wright Brothers program through the RI Council for the Humanities' EnRICHment programs. Speakers include military and commercial pilots! Living Literature has a new Wright Brothers program too.
Events and Programs
A schedule of events is planned around The Wright Brothers and its themes, including a museum trip and An Afternoon with David McCullough on May 21st.
Promotional materials
Publicity materials including book marks and posters (contact Kate Lentz at Center for the Book) and videos featuring author David McCullough.
The Office of Library and Information Services is a proud sponsor of Reading Across Rhode Island.
Topics: Events, Literacy, News & Information, Resources | Comments Off on Resources for Reading Across RI 2016
By Donna DiMichele | March 1, 2016
The American Library Association's Office of Intellectual Freedom (OIF) and Ian Ruskin offer libraries an opportunity to provide advance screenings of  To Begin the World Over Again: the Life of Thomas Paine as a program for their communities before it's aired on public television. In addition to the film license, libraries are supplied with the DVD format to circulate in their collection and resources to promote and structure the library program.
For $50, libraries get the license to show the film as an event, DVDs to circulate in their collection, talking points, an action plan, recipes, and a publicity kit with posters, social media banners, and press releases. 10% of these proceeds will go to the American Library Association/the Office for Intellectual Freedom! When people order, they can request that the Freedom to Read Foundation send brochures free of charge for their patrons.
Topics: ALA, News & Information, Resources | Comments Off on Intellectual Freedom & Thomas Paine @yourlibrary
By Donna DiMichele | February 29, 2016
The Institute of Museum and Library Services collaborated with the Local Initiatives Support Corporation to produce the report Museums, Libraries and Comprehensive Initiatives: A First Look at Emerging Experience.
The publication describes the ways that museums and libraries are helping fuel successful comprehensive community revitalization efforts and offers best practices for other institutions to follow.
The report examines:
Converging Trends in Revitalization & Museum and Library Practice
Physical Revitalization and Community Outcomes
Community-Building and Formation of Collective Efficacy
Collective Impact in Services Delivery
What It Takes: Terms of Engagement for Museums and Libraries
Barriers to Museum and Library Engagement
Topics: IMLS, News & Information, Resources | Comments Off on Fueling Community Revitalization
By alicia | February 12, 2016
The Law Librarians of New England (LLNE) are offering a professional development scholarship opportunity for those who work in public libraries and might be interested in learning more about basic legal research resources.
The annual Introduction to Legal Research Program is LLNE's 5-week overview of the basic skills and materials used in legal research. To help give public librarians the tools necessary to approach their patrons' research questions with confidence, the LLNE Service Committee is offering two scholarships for free program registration. You can find the 2016 scholarship application here. The application deadline is Monday, February 29, 2016. Please send completed applications to Nicole Dyszlewski at ndyszlewski@rwu.edu.edu.
Topics: News & Information | Comments Off on Law Librarians of New England (LLNE) Scholarship
By Donna DiMichele | January 29, 2016
Scholastic Library Publishing released the 2016 edition of School Libraries Work! "The 2016 compendium updates and builds upon the 2008 edition, reinforcing the most relevant themes from that report while highlighting recent research at both the national and state levels." (Scholastic)
Complete an online form to obtain a link for the full report. The form is available on the Scholastic website.
Topics: News & Information | Comments Off on "School Libraries Work!" – new edition
By alicia | January 22, 2016
The URI University Libraries' Faculty Development Committee is proud to announce two programs for Spring 2016:
Design for LibGuides that Work
Kris Markman of Harvard University
Friday 19 February 2016 1-2:30pm
Galanti Lounge, 3rd Floor, Carothers Library, Kingston
Dr. Kris Markman is the Online Learning Librarian and leads the Digital Learning & User Experience (DLUX) department at the Harvard Library. She will bring her extensive professional experience and the results of a year of user testing to URI to suggest how to make the most out of the popular library content management system LibGuides. She will discuss what works and what doesn't, best practices, and whether/how students read the guides.
The Digital Divide
Jessamyn West of Open Library/Internet Archive
Monday 18 April 2016 1-2:30pm
Galanti Lounge, 3rd Floor, Carothers Library, Kingston
Jessamyn West is a librarian and technologist working in the intersections of libraries, technology, and politics. She will discuss the digital divide
— the gap between the digital haves and have nots — and how that divide is shaping domestic and international information access, politics, and economies.
These programs are free and open to the public.
For more information contact Professor Peter Larsen, plarsen@uri.edu
Topics: News & Information | Comments Off on URI Spring Library Professional Development Lectures
By Donna DiMichele | January 19, 2016
The Institute of Museum and Library Services announced "Communities across the U.S. Answer Call for a Library Card for Every Student" on January 19.
White House event advances collaborative initiatives
of library, school and elected leaders
Washington, DC–Mayors, county executives, school superintendents, and library leaders from approximately 50 cities and counties are meeting in Washington, DC, today as part of a national initiative to connect students to public library system resources. These communities are among the 60 communities that have answered the call of President Obama's ConnectED Library Challenge to put a library card in every student's hand through partnership initiatives.

The "ConnectED Library Challenge: Answering the Call" convening is hosted by the White House with the support of the Institute of Museum and Library Services. It is both a strategy session and a celebration of the community leaders who accepted the President's challenge last April. Both the Urban Libraries Council (ULC) and American Library Association (ALA) are contributing to this important initiative.

"By providing equal access to books, computers, and electronic resources, libraries play an essential role in addressing academic achievement gaps for children living in poverty. But there is more to be done. We know that first grade students who have library cards are more than twice as likely to visit libraries as other first graders," said IMLS Director Dr. Kathryn K. Matthew. "The leaders who have responded to the ConnectED Library Challenge are making great strides to serve these children, and we are extremely grateful for their extraordinary efforts."

"There can be no more important partnership than local elected officials joining with public school and public library leaders to ensure our nation's children have access to the universe of resources-books, technology and smart people-for a 21st century education," said ULC President and CEO Susan Benton. "The White House ConnectED Library Challenge showcases how kids benefit when leaders work together at the local level."

"I know from my experience that when you link the school library, the school and the public library, that collaboration gives every student access to a rich collection of resources that improves their education," said ALA President Sari Feldman, executive director of the Cuyahoga County Public Library.

Many jurisdictions that have taken the challenge have adopted creative and unique ways to break down barriers and provide library access. Some local governments have introduced cards that provide free or discounted access to multiple municipal services for young people — the public library, recreation facilities, public transportation, and cultural facilities. Other partnerships are using student ID numbers to provide easy access to library resources.
The Clinton-Macomb Public Library in Michigan is teaming with the Chippewa Valley Schools and other schools systems so that every student in Clinton Township and Macomb Township will have access to library services by the end of the current school year. The library district is allowing students who do not already have a traditional card to use their school-issued identification numbers. All students will have access to online homework help, electronic books, magazines and encyclopedias, and a variety of other electronic resources.
Through their partnership, the Tucson Unified School District and the Pima County Public Library are working to connect students with technology resources, content, and learning strategies to improve reading comprehension and build 21st century skills. The library trained more than 200 school staff members, from superintendents and principals to learning support coordinators. There are now library advocates within each school site who are promoting the use of library technology resources among students and families. This effort-resulting in more than 3,700 new student cardholders-has established a framework of communication between local school sites and the public library.
Through a partnership called "Boundless" a learning focused initiative between Hartford Public Library and Hartford Public Schools has been created that will redefine the model for urban learning. Boundless ensures that all public school children have their own library card. The library and schools will work together on programming and purchasing decisions to expand the collections of e-books, traditional texts and online learning resources available for students.
The information from the summit and information gathered as part of this first stage of the ConnectED Library Challenge will be used in the development of a national report which will be widely distributed.

Note: Contact IMLS Communications and Government Affairs Office at 202-653-4757 for event photos. Follow the event on Twitter with #librariesforall
Topics: 21st Century Skills in Libraries, ALA, Events, IMLS, Literacy | Comments Off on A Library Card for Every Student
« Previous Entries
Next Entries »