By Donna DiMichele | June 23, 2015
The Northstar Digital Literacy Project created an assessment that defines the basic skills needed to perform tasks on computers and online. The ability of adults to perform these tasks can be assessed through online, self-guided modules. Included are basic computer digital literacy standards and modules in eight main areas: Basic Computer Use, Internet, Windows Operating System, Mac OS, Email, Word Processing (Word), Social Media, and Excel.
When individuals pass the assessments at approved sites, they can obtain the Northstar Digital Literacy Certificate. This provides a credential for employment. There is no cost to complete the online assessments.
On Tuesday, June 30 Rhode Island public library directors can learn how to get a site license for the NorthStar Digital Assessment and how to use it in their library. Get more information and sign up on the OLIS website.
Topics: 21st Century Skills in Libraries, Digital Literacy, Events, Technology | Comments Off on Measuring Digital Literacy
By Donna DiMichele | June 2, 2015
Preservation Metrics Today: Heritage Health Information and Preservation Statistics
A free Connecting to Collections Care webinar
Date: June 11, 2015
Time: 2-3:30 EDT
Now more than ever, data drives decisions: Which projects should be funded? Where is staff needed? What activities should take priority over others? How can you find the data to help when you are looking for funding or trying to persuade your community or legislators to provide funds for collections care in you museum, historical society or library? Collections care is an ongoing process and the need for caring for collections doesn't go away when times are lean. Having your specific needs spelled out can help you make a persuasive argument for future funding.
The Heritage Health Information and the Preservation Statistics programs are both dedicated to collecting and analyzing the information on care for our collections in the broadest sense and they are the go-to programs for the data you need.
This webinar will give you the chance to learn more about these programs and to learn about how you might use the information they provide for your own situations. It will also help you to address StEPs MVG Standards 3 and 4.
Visit the Connecting to Collections Care page for more information, registration, and other learning opportunities.

Featured Speakers:
Lesley A. Langa is the Director of the Heritage Health Information Survey 2014 at Heritage Preservation. Ms. Langa is also a doctoral candidate in the iSchool at the University of Maryland. Ms. Langa has managed national research projects in the cultural sector for over ten years, including work for the Smithsonian Institution, the Institute of Museum and Library Services, and the Getty Foundation. Her research has been presented at the American Alliance for Museums, the American Libraries Association, the iConference, the Museum Computer Network, and the Visitor Studies Association.
Annie Peterson is the Preservation Librarian at Howard-Tilton MemorialLibrary, Tulane University, a position she has held since July 2012. Previously she was the IMLS Preservation Administration Fellow at Yale University. She is a coordinator of the annual Preservation Statistics Survey.
Holly Robertson is a preservation consultant and grant writer based in Washington, DC specializing in preservation assessments, collections conservation management, disaster recovery, digital preservation, archival storage, and audio / visual preservation issues. As one of the coordinators for the all-volunteer Preservation Statistics Survey project, she works to assure that the preservation activities of cultural heritages institutions are documented to empower practitioners and support advocacy.
http://www.connectingtocollections.org/preservation-metrics-today-heritage-health-information-and-preservation-statistics-2/
Topics: Continuing Education, Events, Preservation | Comments Off on Preservation Metrics Today
By Donna DiMichele | June 2, 2015
NISO will offer a virtual conference about ebooks and libraries on June 17, 2015.
The Eternal To-Do List: Making Ebooks work in Libraries
From scholarly monographs to textbooks, the range of e-book formats and use cases is rapidly expanding. Libraries are on the front lines of this issue, actively evolving their approach to offering e-books to meet patron needs and expectations. This virtual conference, The Eternal To-Do List: Making E-books Work in Libraries, will probe the key issues surrounding e-books from a variety of library, technology, and end-user viewpoints and share experiences of how some libraries have met these challenges.
Date: June 17, 2015
Time: 11:00 am – 5:00 pm Eastern
Virtual conferences are 5-6 hour conferences held online in webinar-like formats, with occasional breaks in the schedule for participants. The longer length allows the depth of coverage of a conference coupled with the convenience of a webinar.
Visit the NISO page for complete information about the conference and registration:
NISO Virtual Conference: The Eternal To-Do List: Making E-books Work in Libraries
Topics: Continuing Education, eBooks, Events, Technology | Comments Off on Making Ebooks work in Libraries
By Donna DiMichele | June 1, 2015
The Institute of Museum and Library Services (IMLS) will hold its third stakeholder convening with library and archives professionals on  Tuesday, June 2, from 9:00 a.m.- 4:45 p.m. PDT at the Los Angeles Public Library in Los Angeles, CA. The meeting will focus on community engagement and spotlight a range of IMLS-funded programs. Online participants may join at any time. Press release
IMLS invites broad participation via a live webcast as well as through social media using the Twitter hashtag #IMLSfocus and through the dedicated e-mail address, focus@imls.gov.
The Los Angeles meeting will showcase libraries' work to engage with their communities, through the lens of partnerships and serving diverse needs. Attendees will examine successful program characteristics, including assessment, capacity-building, partnerships, communications, evaluation, and sustainability. Agenda
Speakers will include:
John Szabo, City Librarian, Los Angeles Public Library
Julie Walker, State Librarian, Georgia Public Library Service
Steve Reder, Professor, Department of Applied Linguistics, Portland State University
The Engaging Communities convening is part of a series of meetings hosted by IMLS in 2015. The first, held in Washington, DC, in late April, examined the National Digital Platform. The second, held in Kansas City, MO, in mid-May, focused on learning in libraries. Through these meetings, IMLS will capture input to move the field forward and further develop its strategic priorities. White papers from all three IMLS Focus convenings will be made available on the website this summer.
Topics: Events, Future of Libraries, IMLS, News & Information | Comments Off on Library Convening will Focus on Engaging Communities
By ann | May 22, 2015
Why read aloud to older kids and teen?
Read the following excerpted from the American Libraries magazine May 2015 issue, pg 23. It's an interview with Newsmaker: Kody Keplinger, author of The DUFF: Designated Ugly Fat Friend and other young adult titles. Kody answers the question,-What kind of service would you like to see libraries offer to people with visual impairment?
When I was a kid, there was this strange, negative bias toward nonvisual reading. I think it still exists today. For some reason, people don't consider having something read aloud to you as "real reading." I've even been told that listening to an audiobook isn't "real reading." This is obviously problematic as it excludes those with visual and reading disabilities, and it also shames those who may be auditory learners over visual learners. I was lucky that my mother never had this attitude and read to me well into my teen years; even still, when I visit her, we'll read together. It was her reading to me that led me to audiobook, which is how I do most of my reading today. If teachers and librarians did this regularly, for teens as well as kids, I think we'd begin to see that attitude about real reading change, and we might even see an increased interest in reading overall. I'd love to see libraries implement reading programs for older kids and teens, maybe doing weekly read-aloud sessions, inviting not just those with disabilities, but anyone who wants to listen. I think everyone enjoys being read to, and if we normalize that, then we can foster more readers, both with and without disability.
Topics: Future of Libraries, News & Information | Comments Off on Reading Aloud Library Service
By ann | May 21, 2015
From the LBPH (Library for the Blind and Physically Handicapped) listserv through Talking Books Plus–
Project ENABLE presents two free webinars for librarians to provide inclusive programs and services for all patrons with disabilities. See details for registration information.
May 22, 2015
Supporting Public and Academic Librarians to Provide Inclusive Programs and Services for All Patrons with Disabilities.
If clicking the above link does not work, please copy and paste the following link to your web browser:
http://bbi.syr.edu/news_events/news/2015/04/ProjectENABLE_webinar_052215.html
Topics: Continuing Education, Events, News & Information | Comments Off on Free Webinars on Inclusive Library Programs and Services
By Donna DiMichele | May 15, 2015
If you did not have an opportunity to attend the Kids Reading Across Rhode Island Kick-Off event, you can see some of the day's action on Flickr   There is a brief recap of the day on the OLIS website. You can learn more about the RI Summer Reading Program online. The Kids Reading Across RI program is a partnership between the Office of Library and Information Services and the RI Center for the Book; it receives major funding from the Institute of Museum and Library Services and TD Bank and the TD Charitable Foundation.
Topics: Events, IMLS | Comments Off on Kids Reading Across RI 2015
By alicia | May 8, 2015
11th Joint Mini Conference
Friday, June 5, 2015
11am – 4pm
New York Public Library
Schwarzman Building Trustees Room
42nd Street and 5th Avenue
New York, New York
Theme: Librarians Without Borders: Libraries Transforming Communities
The Joint Mini Conference sponsored by the REFORMA Northeast Chapter brings together the ethnic caucuses of ALA: American Indian Library Association (AILA), Asian Pacific American Librarians Association (APALA), Black Caucus of the American Library Association (BCALA), Chinese American Librarians Association (CALA), REFORMA, The National Association to Promote Library and Information Services to Latinos and the Spanish-Speaking (REFORMA), Gay, Lesbian, Bisexual, Transgender Round Table (GLBTRT), and The Association of Specialized and Cooperative Library Agencies (ASCLA) for a day of intellectual collaboration and networking opportunity for librarians. The event is free and is a meaningful day of professional development.
More details to follow.
Topics: Continuing Education, Events, News & Information | Comments Off on Joint Mini Conference sponsored by the REFORMA Northeast Chapter
By Donna DiMichele | May 1, 2015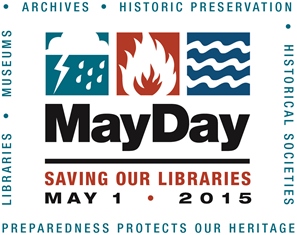 Today is May 1 – there are worldwide celebrations around many themes. The earliest May Day celebrations appeared in pre-Christian times. In the late 19th Century, May Day was chosen as the date for International Workers' Day. May 1 is also one of two feast days of the Catholic patron saint of workers St. Joseph the Worker. (Wikipedia) But, did you know that MayDay is also is a time when librarians, archivists and other cultural heritage professionals take responsibility for doing something simple – something that can be accomplished in a day but that can have a significant impact on an individual's or a repository's ability to respond? (SAA)
ALA, Society of American Archivists, Heritage Preservation and others are partnering to promote preservation actions to keep our cultural heritage safe. What are you and your library planning to do?
For more information about MayDay and preservation, visit these sites
SAA MayDay: Saving Our Archives
Topics: Events, News & Information, Preservation, Resources | Comments Off on MayDay 2015
By Donna DiMichele | April 30, 2015
With a group of middle school students seated in front of him at the Anacostia Branch of the District of Columbia Public Library, and hundreds of other students on a "virtual field trip" watching online from throughout the country, President Obama announced the Open eBooks initiative. The program will make $250 million dollars in popular ebooks available via an app to students from low-income families. The Open eBooks app is being developed by the New York Public Library, which is partnering with the Digital Public Library of America and First Book to curate and deliver the e-books to students from low-income families. #BooksForAll
A complementary program, the ConnectED Library Challenge, is a commitment by more than 30 communities to work to put a library card into every student's hand as soon as they enter school. Data analyzed by IMLS show that children who visited the library during kindergarten had higher achievement scores in reading and science in third grade, particularly for children in households with low income and low parental education. IMLS, in partnership with the American Library Association and the Urban Libraries Council, will host a national convening this year to identify and share best practices in reaching universal library card use among public school students.
For details, see the following
President Obama Announces Open eBooks and ConnectED Library Challenge
White House Fact Sheet Spreading the Joy of Reading to More Children and Young Adults
The archive version of the President Obama Participates in a "Virtual Field Trip" with Students Around the Country will be posted on the White House channel on YouTube
Topics: ALA, eBooks, IMLS, Literacy, News & Information | Comments Off on President Obama announces Open eBooks Initiative and ConnectEd
« Previous Entries
Next Entries »